What specification should be taken into account when choosing graphic tablets for drawing anime?
How to choose your ideal graphic tablets?
Which brand I should choose, Wacom or aery?
First, we need to understand the following points.
1. Common types of graphic tablets
2. Common specification of graphic tablets
3. Introduction of Wacom & Aery
4. Comparison made by painters after using
After reading these four points, you will be able to find your ideal graphic tablets!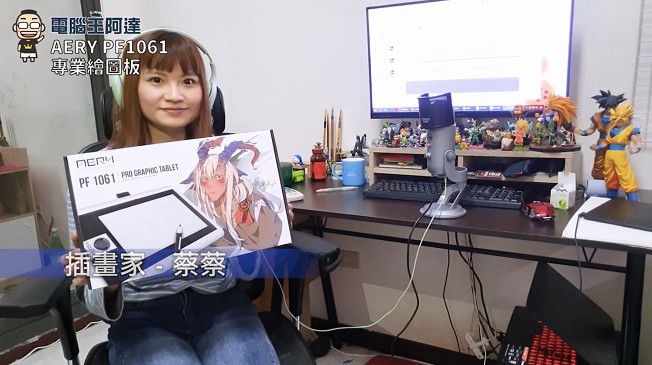 QA1>What are common types of graphic tablets?
Many people can't distinguish pen tablets from graphic tablets. In fact, pen tablets can be regarded as "e-notebook". They are often used in meetings, teaching, or discussing team skills. The price of pen tablets is usually under a thousand dollars. However, most of the pen tablets can't connect to computer drawing software. They can only upload files to computers. Also, the pens aren't equipped with pressure function, such as the Xiaomi pen tablet. On the other hand, some of the pen tablets from well-known brands can connect to computers to draw artworks.
Graphic tablets can connect to drawing software, such as PS, AI, etc, which makes it easy for designers to design their artworks instead of using a computer mouse. Also, graphic pens provide shortcut keys. This helps users to draw conveniently and efficiently. Moreover, users can have a more realistic drawing experience with graphic tablets.
(3)

Monitor Graphic Tablet:
This kind of graphic tablet can connect to computer drawing software. Unlike general graphic tablets, it provides better efficacy. Equipped with an LCD screen, it can display drawing software on the screen. Therefore, users can operate in a direct, convenient, and efficient way.
Similar to monitor graphic tablets, it provides a convenient and direct way for users to operate. However, it can't connect to digital illustration software. It can only connect to software installed on the tablet, then upload the file to the computer. This is not that convenient because of the incompatible issues on different systems. On the other hand, the advantage of tablets is they are easy to carry. It's not necessary to connect to a computer. As for IPad made by Apple, they design Apple pencil with pressure sense, which is popular among Apple users. However, the price is very high.
QA2> What are the common functions of graphic tablets?
Generally speaking, there are five differences between graphic tablets.
Just like TVs, the higher the resolution is, the more detailed the picture and the line is. In other words, high resolution can reduce image aliasing and can provide better pen sensitivity.
The resolution level of graphic tablets -
5080 LPI > I4000 LPI > 3048 LPI > 2540 LPI
(2)

Pen Pressure Sensitivity:
The higher level of pressure sensitivity, the more detailed pen strokes would be. That is to say, the pressure system of graphic tablets would affect the brightness, thickness, and color of the line. What's more, graphic tablets with better pressure sensitivity would not be inferior to hand drawing!
The level of pen pressure sensitivity-

8192 Level > 4096 Level > 2048 Level
Basically, better graphic tablets provide many functions, such as shortcut keys.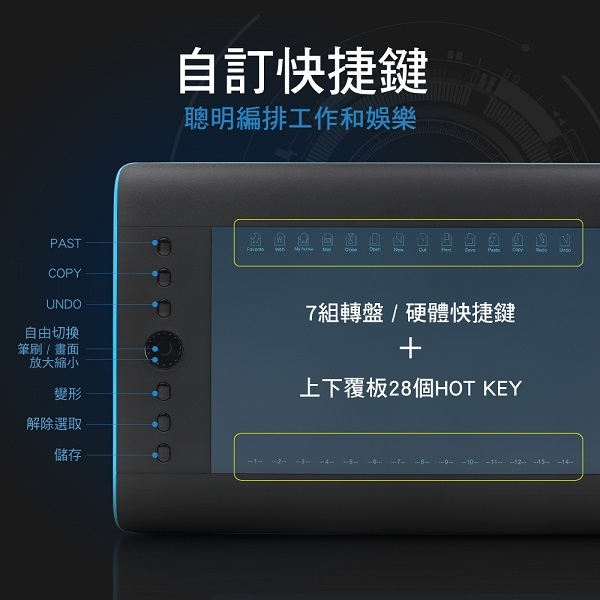 Some graphic tablets are equipped with bottoms and turntable wheel control. Users can set many functions they need, such as open, return, etc. They can also set more functions that can replace a mouse, such as zoom in. Without these functions, the graphic tablets may need a mouse to operate, which is convenient and time-consuming. 
Graphic tablets vary from size to size. Users can pick up your ideal graphic tablets based on your working environment. If the graphic tablet you choose is not big enough, there would be lots of limitations. On the other hand, although bigger size can be more convenient for designers to draw bigger artwork, the price would rise because of the size. This depends on users' consideration. 
(5)

Pen Tablet Compatibility:
Notice that a graphic tablet is a tool that needs to connect with computers. It's necessary to install a driver to make graphic tablets workable. Therefore, before buying your ideal graphic tablet, it's important to check if the graphic tablet is compatible with your software, or you'll need to find another one.
Luckily, most of the graphic tablets on the market are compatible with common software, users shouldn't be worried about it. To prevent this from happening, it's suggested that users should check thoroughly before buying or buy graphic tablets of well-known brands. Don't buy graphic tablets of unknown brands.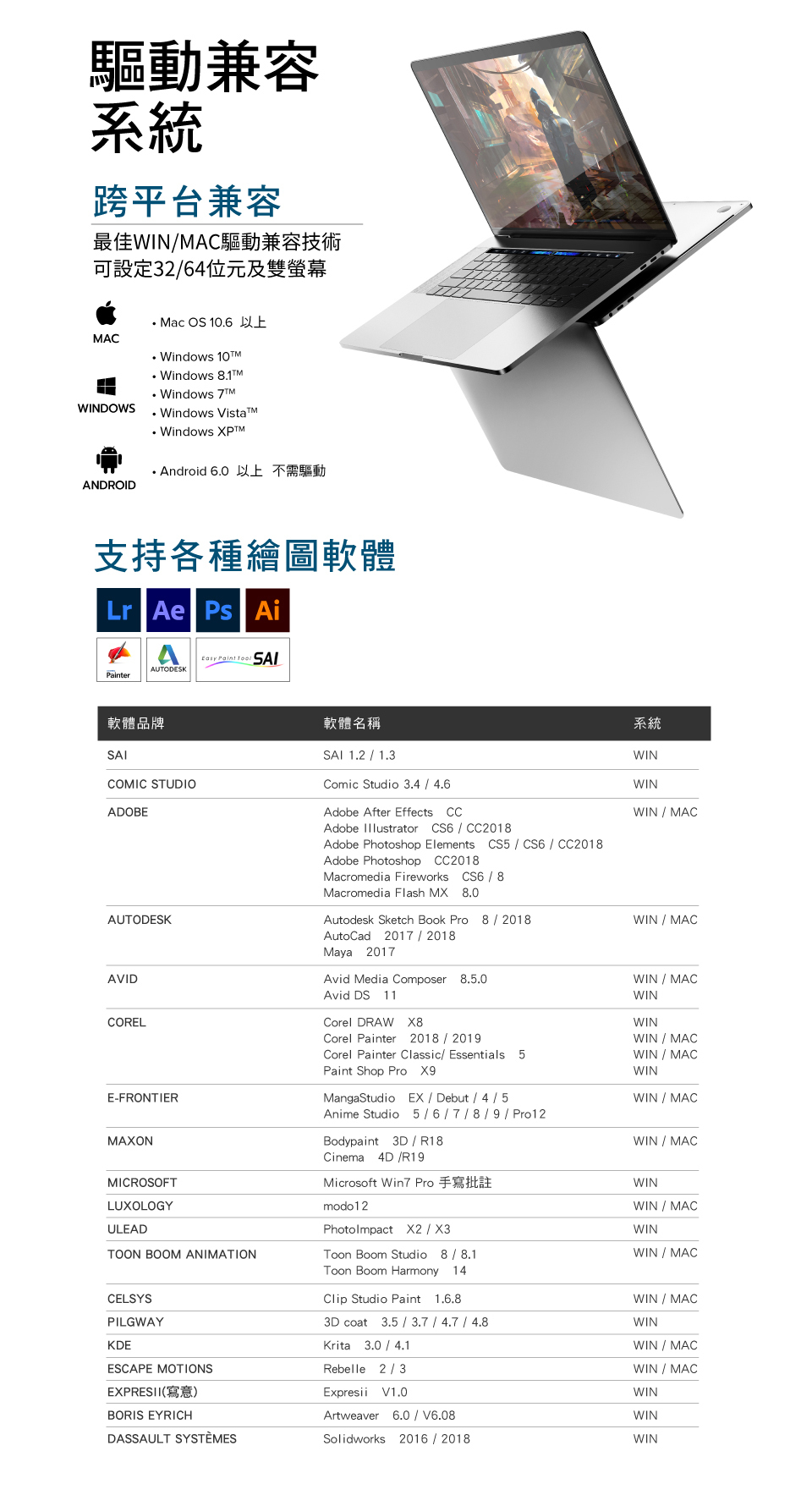 QA3. 
Introduction of Wacom and Aery



| Brands | Features | Price | Reviews from PTT |
| --- | --- | --- | --- |
| Wacom | Undelayed technique | 2590~119900 NTD | Excellent using experience |
| | Excellent user using experience | | High price & complicated product line |
| AERY | Aesthetic graphic tablets with ideal price | 2590~119900 NTD | Ideal price and high performance |
| | Popular among teachers and students | | Good after-sell service & Small capacity driver |
Wacom is a graphic tablet brand from japan with high publicity and large market share. Because of its long history and its stable techniques, many users are fond of Wacom. Its obvious features are excellent pressure sensitivity techniques and undelayed drawing experience. However, its complicated merchandises make people dizzy. Furthermore, its products are usually more expensive than any other brand.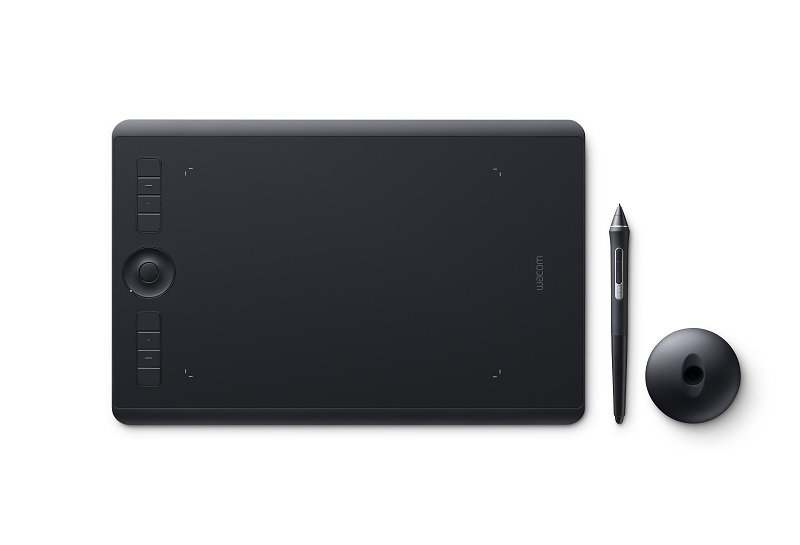 Aery is the leading graphic tablet brand in Taiwan. It's a rising star after Wacom. Aery aims to pursue high value, satisfactory after-sales services, and a stable driver with a small capacity, which makes it more economical than other brands. In recent years, Aery is devoted to cooperating with the department of design from colleges. Also, students and creators speak highly of Aery. As a brand in Taiwan, Aery often donates graphic tablets to schools in remote areas. This behavior is highly acclaimed by society.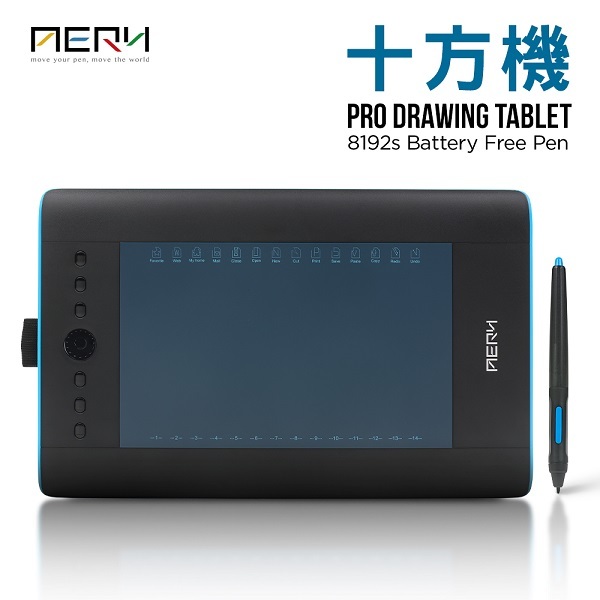 QA4. 
Are there any reviews from professionals using both Wacom & Aery?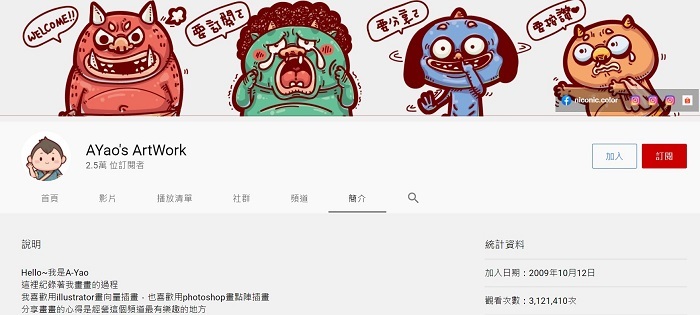 Unboxing Video of Aery Ten Way- Analysis of the Pros & Cons and Comparison between  Wacom & Aery.
AYao has used graphic tablets of both Wacom and Aery. He would share many painting skills and applications on digital illustration software. Aside from having excellent painting skills, he has a good reputation for his credibility & justice. For those who are interested, you can take a look at Ayao's channel!