Comparison Table- Graphic Tablets & IPAD 




| Comparison | Graphic Tablets (Ten Way) | IPad(APPLE) | Winner |
| --- | --- | --- | --- |
| Portability | Connect to Computers | Easily Carried | IPAD |
| Directness | Without Screen. Take time to familiarize yourself with functions. | Draw on the Screen Directly | IPAD |
| Mapping Area | 10"x6" | 12 Inches | The Same |
| Turning Pad + Shortcut Keys | 1 Turning Pad+7 Shortcut Keys | X | Graphic Tablets |
| Digital Pen | P90 Battery-free Eraser Pen | Need to buy Apple pencil  | Graphic Tablets |
| Detailedness | More detailed when conned to computers | Limited by the size of the screen  | Graphic Tablets |
| Price | 3490 NTD | 20,000 ~ 30,000 NTD | Graphic Tablets |
With the rising popularity of Instagram, short graphic rises as well. Many painters have become famous in this generation. Therefore, IPAD is beloved among painters in this period of time. However, it cost about 20,000~30,000 NTD to buy an IPAD, which can't be afforded by most students and the petite bourgeoisie. 
Furthermore, at the same time, some people don't understand the differences between IPAD and graphic tablets and their necessity for graphic tablets. 
This article will show you the differences and recommended graphic tablets!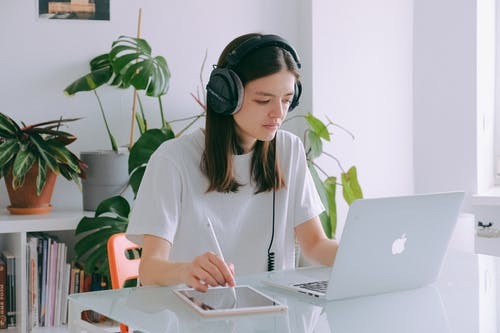 1. 
The Pros and Cons of IPad
:
Users use Apple Pencil to draw. The pressure sensitivity level is high with good quality. Moreover, users can draw and edit on the screen directly. Also, its thin and light volume and long battery life make users carry it everywhere. Basically, it can be regarded as a mobile graphic tablet.
The price of an IPad is very high. The price of the IPad Pro equals ten middle-level graphic tablets. Furthermore, users need to buy Apple Pencil by themselves. Therefore, it cost at least 30,000 NTD to buy a full set of IPad. For students and the petite bourgeoisie, it's hard for them to afford this big amount of money. Also, digital illustration software on tablets is not compatible with computers. Therefore, it's suggested for those who want to create delicate artwork or large artwork, it's better to choose graphic tablets.
2. The Pros and Cons of Graphic Tablet:
Graphic tablet can be divided into "general graphic tablets" and "monitor graphic tablets". This article focuses on the general one. Its pros are the ideal price that is affordable to students and the petite bourgeoisie. Also, it provides high work efficiency, for it can connect to computers to do more detailed edit. Last but not least, with function keys equipped on the graphic tablets, painters can zoom in/ out immediately, which is very convenient.
A graphic tablet must connect to a computer. Therefore, it's not easy to take it everywhere as IPad is. Unlike monitor graphic tablets, there isn't any screen on a general graphic tablet. For those who begin to use graphic tablets, it would take some time for them to be familiar with the graphic tablets
3. Comic Artist Using Both IPad & Graphic Tablets:
Popular Comic Artist on Instagram-YUANCHI
Yucnchi is a very cute comic artist.
Her artworks are painted in watercolor and hand-painted. In her Youtube channel, there are some videos about her painting and some skills about painting.
For those who are interested in watercolor and illustrating, you should take a look at it.
4. What is the Recommended Model for Illustrating on Instagram?:
Watch this video to see how Yuanchi draws this cute cat by using Ten Way!